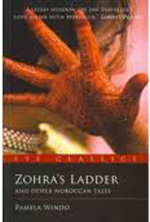 ZOHRA'S LADDER & OTHER MOROCCAN TALES
2ND Edition,  Eye Classics  2011
A collection of stories from the author's seven-year stay in Morocco, describing the colors, flavors, sounds and textures of  an almost dream-like place: a world of fleeting affairs, unexpected warmth, and subtle moments in shadowed courtyards.
Excerpt
"An Afternoon at the Hammam: We came to two arched doorways set in high ocher-washed windowless walls. I followed Fatima through a curtain into a dimly-lit changing-room in which a group of women wearing colorful headscarves were squatting, brewing mint tea over a charcoal burner that gave off warm woody fumes.  I immediately felt the women's sharp eyes scrutinizing me and imagined their sharp tongues discussing me too, as they chatted in their singsong medley of Berber and Arabic, perhaps laying odds as to how long I'd last in the heat.
… The last part of the washing ritual was the application of sludgy clay to my hair. To rinse it off required me to bend my head between my open legs, a job a jovial old matron assigned herself. The washing of the thin pale foreigner had become a feature of the hammam. She gave me a wide-toothed comb and poured water over me, pot after pot that streamed from my crown over my shoulders, and down my back, and felt like a hot healing river. I was by then utterly lost in sensuality, my body felt transparent; my hair, like silk. …..
READ ONE FULL SHORT STORY HERE:
ZOHRA'S LADDER & OTHER MOROCCAN TALES
A Beach Encounter
It was my first venture to the beach, a baking hot day in Agadir, in the early summer of 1989.  Living among women who wore djellabas to cover every inch of their bodies in public had had its effect on me: I'd become modest, embarrassed even, at the thought of displaying my flesh for all to see; men, I mean.  Until now, I'd tanned myself in private, in the courtyard of the house I lived in, loaned to me by the mother of a Moroccan friend.  But I longed to lie on the beach and swim in the ocean.  The beach was a glorious stretch of pale soft sand, a mere five-minute walk from the house and it was just too hot to resist anymore.
The tourists were over on their private hotel beaches, pink and topless on loungers, oblivious of all except the sun.  The main beach was colonized by young Moroccans playing football and ogling any stray foreign women brave or foolish enough to lie at their feet, so I chose a spot a good hundred yards from them.  I stretched out my towel, slid the skirt down my thighs as nonchalantly as possible, removed my T-shirt, and lay down quickly in my one-piece pink swimsuit, hoping I'd disappear into the sand. 
The sky arched above me, blue as cornflowers, and dazzlingly clear.  Everything was perfect: the lapping of the waves, the cries of the seagulls over by the fishing harbor, the echoes of the young men's voices.  Except: I felt shameless and conspicuous, an invitation to all and sundry.
After a while, when a pool of sweat had formed beneath my back, I sat up, looked all round: the coast was clear. I got up and walked slowly down the beach to the shore. Tiny clear frothy waves lapped and ebbed as I walked out, resolute, as if on a mission.  I dove under and swam about in the gently rolling ocean, my only companions, shoals of silvery sardines that had so far escaped the fishermen's nets.
After a while, I walked swiftly back up the beach to my towel and lay down again, my body covered in droplets of sparkling seawater that turned quickly into patches of white salt.  I breathed and closed my eyes; such bliss.  And then I heard the light thump of footsteps on the sand, getting closer.  I turned over onto my stomach and turned my head in the direction the footsteps were coming from, my eyes hidden by my sunglasses. A young boy of about fourteen, barefoot and bare-chest, wearing ragged cut-off shorts, was approaching. 
"Ey, madame want sex?" he called out, from a few feet away.  I pretended to not hear him, to be asleep, and didn't move.  "Madame, la gazelle," he said, repeating what all young Moroccan men said to every foreign woman, thinking that comparing them to a shy and frisky gazelle would do the trick.  I ignored the comment, and he stepped closer, standing over me now, his dark shadow falling on me.  At this, I lost my cool composure and peered up at him.  "Safay," enough, I said.  "Seer fehelek," go away, I added, repeating what a Moroccan friend had taught me.  
That did it; to be rebuffed by a loose foreign woman speaking his language was too much in one day.  "Huh," he snapped, "you could be my grandmother!"  And off he strode.
Buy it on Amazon: http://www.amazon.com/s/ref=nb_sb_noss_1?url=search-alias%3Dstripbooks&field-keywords=zohra%27s+ladder 

Both Editions also available from Eye Books   http://www.eye-books.com/?s=zohra%27s+ladder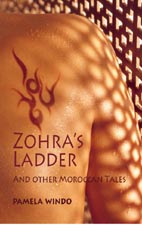 ZOHRA'S LADDER,1ST EDITION –  2005
Reviews:
Cruise Magazine – Moroccan Tales – 2005
Jersey Journal – Author Tells Stories – 2005
Medina magazine – review
MedLife magazine – A Brit in the Medina – 2003
New York Times – The Road to Morocco: starting in Jersey City – 2005
Royal Air Maroc magazine – Recommended Books –2005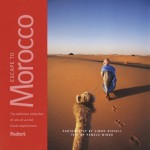 FODORS ESCAPE TO MOROCCO  – 2000
I found the book to be so appetizing that I almost got on a plane then & there…full of stunning photos. Highly recommended! – Amazon.co.uk
FODORS GUIDE MOROCCO – 2000, 2002, 2004, 2009 Editions
Fodor's Travel Literature
Reviews