Articles & Essays
Rock the Kasbahs, Town & Country Travel – 2008
Excerpt:
Drive thirty minutes south of Agadir, Morocco, on the P30, the part of the new Trans-African Highway that hugs the coast between Cairo and Dakar, and the urban landscape melts into flat fields dotted with spiny argan trees and dwarf palms. Here, in a region sheltered from the inland heat by the Anti-Atlas Mountains yet blessed with a microclimate guaranteeing constant sunshine, locals live much as their ancestors did, fishing and farming, retiring to their mud-brick homes for daily siestas.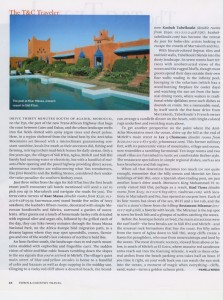 Tunisia Gets Chic, Departures magazine, North African Updates – 2007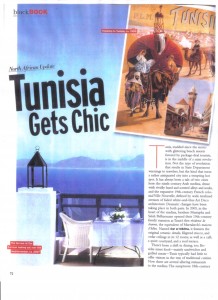 Excerpt:
Tunis, studded since the sixties with glittering beach resorts favored by package-deal tourists, is in the middle of a mini revolution. Not the type of revolution that results in State Department warnings to travelers, but the kind that turns a rather antiquated city into a tempting hot spot. It has always been a tale of two cities here: the ninth-century Arab medina, dense with vividly hued and scented alleys and souks, and the expansive 19th-century French colo­nial Ville Nouvelle, defined by wide tree-lined ave­nues of faded white-and-blue Art Deco architecture.  Read more…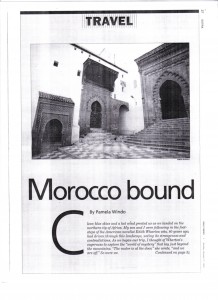 The Road to Morocco, Starting in Jersey City, NYTimes – 2005
Excerpt:
A resemblance between Jersey City and Marrakesh?
Pamela Windo, a Jersey City writer, says she sees it when she is out watering vegetables in her community garden at Riverview Park and talking to neighbors. 
Seven Years in Morocco: Author tells stories – Jersey Journal – 2005
Excerpt:
Pamela Windo moved to Morocco without any plans in place, but ended up staying for seven years.  Now in Jersey City, the English-born author comes to Hoboken to share her stories.  Read more…
Here a Palace, There a Palace, Travel Lady – 2003
Excerpt:
If you didn't know about it, you would never find the beautiful Palacio Belmonte. It lies at the top of one of Lisbon's seven hills, tucked inside the ramparts of the Castelo de São Jorge, behind plum-red portals in a narrow cobbled passage.
A Little Peace in El Oualidia – Travel Lady – 2002
Excerpt:
It's the end of April, the air is fresh and the sun is shining over Morocco. I get out of my car and stand on a hill that rises steeply above a sparkling turquoise-blue lagoon. Ahead of me are the foam-flecked blue-green waves of the Atlantic Ocean and to my right, the snaking blue channels, inlets, and creeks that meander for miles along the coast.   Read more …
Life in a Community Garden, Jersey Journal – 2008
Cotswold Country: Wandering in Westonbirt, Cotswold Life – 2004
American Express Departures magazine – Reid's Palace Relaxes – Madeira – 2001
Ait Bou Gmez – House of the Stars – National Geographic Traveler – 2000
Conde Nast Traveller – Riad Enija – 2000
The Daily News – Morocco Bound – In Edith Wharton's Footsteps – 1997
An Insider's Marrakech – GB Airways magazine – 1995
Great Expectorations – The Village Voice – 1986